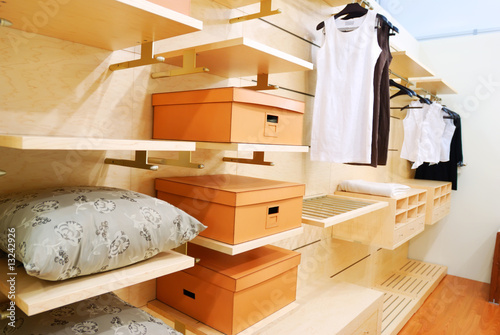 https://stock.adobe.com/
Whether you're looking to put your home on the market for sale, or you're just trying to revamp your living space, taking the time to declutter and get organized can be easy and fun! Just follow these 6 tips, and your home will be showroom ready before you know it!
1. Lay out your game plan. Identify the areas that are most in need of help. Closets and cabinets are usually a great place to start. Don't let yourself get overwhelmed! Break up the tasks into smaller, manageable blocks, so that you can feel like you've accomplished the goals you've set for yourself. It's a lot easier to check off "clean linen closet" than it is to finish ALL the closets in your house in one fell swoop!
2. Use the "4 box" method. Grab 4 boxes or bags, and label them 'Keep,' 'Sell/Donate,' 'Throw Away,' and 'Relocate.' Go through your dresser drawers and put each item in a box. Try not to overthink the process! If your first instinct is to sell or donate that old pair of shorts you haven't worn in years, do it! If you get into the habit of over-analyzing, you'll be able to find a justification to keep EVERYTHING, which defeats the purpose entirely. Anything you haven't used in 6 months to a year is probably just taking up space, so decide if the item may still have use for someone else, or if it's better off in the trash box. Empty each of these boxes after you complete a space. Put all of your 'Keep' items back into the dresser, organizing as you go. If you have anything in the 'Relocate' box, decide right away where their new home should be.
3. Organize. There are a plethora of organizational tools available for purchase at your local department or hardware store. Do you have 200 pairs of shoes and can't bear the thought of parting with even a single one? Purchase an under-the-bed shoe organizer that can hold all of your favorite footwear, while keeping it stored out of sight and easily accessible! Install a new shelving unit in a closet or pantry to give some extra storage space. Or pick up a rotating shelf for your kitchen cabinets to maximize your space. If you have a lot of seasonal items like sweaters or blankets that aren't going to be used in the hot summer months, invest in some vacuum seal bags, and watch these bulky items shrink down to stackable packages in no time!
4. Get rid of all that paper! Flat surfaces can become clutter magnets in no time. Don't we all have a stack of junk mail somewhere on a table or counter that just grows and grows until we get tired of looking at it, and wind up just throwing everything away? Go through all these random piles as you declutter, and decide where, in the future, you want your paperwork to be located. Pick up a small filing cabinet from a local secondhand store and fill it with folders for your bills, important papers, coupon fliers, or kids' artwork. Once a year, go through the cabinet and throw out anything you won't need in the future. Go through your junk mail as it comes in and decide if there is anything worthwhile buried inside. If not, throw it into the recycling bin right away! Your home will look neater, and you'll know exactly where to look for the important things you need.
5. Pay attention to the little things. While not necessarily "clutter," look around your home for small items that may look disorganized to potential buyers or guests. Get a pack of inexpensive binder clips and clip all of your computer or tv cords together so they're not all over the place in a tangled mess. Install an organizer in the dreaded kitchen junk drawer so that it closes properly and doesn't spray paperclips all over the floor every time it's opened. Put a hanging shelf on the shower wall to keep all those soaps and shampoos from falling all over the tub floor. While it may seem unnecessary, you'd be surprised how much difference these little fixes will make to the look and functionality of your space!
6, Get help for the big jobs. Cleaning out the garage, basement, or attic can be more than one person can comfortably handle alone, so get the rest of the family involved and make a day out of it! Take all of the items out of the space if you can, and decide exactly what will go back in, and how. Put up a wall of cork board to hang lighter items in a visible, easily accessible way. Purchase some durable containers to store all of your sporting equipment so you don't spend time hunting for a baseball when you want to go play catch. Put all of your seasonal decorations together in one bin and label it in bold black marker so you can pull out all those awesome Halloween decorations in one go. Try to keep like items together, so when you enter your attic or garage you will know exactly what area in which you'll find what you're looking for.
It may take a few weekends to get rid of years worth of clutter, but it's well worth it! Once you're all done, you'll have a clean, well-organized space and a great system in place to prevent clutter from building up in the future! Remember that a well-kept home always shows better to potential buyers, and is just a more comfortable environment to live in for the whole family.
850.661.1440