Let's face it - a lot of time in the real estate business is spent waiting. Waiting for the client to get loan approval. Waiting for completed inspections. Waiting for sellers to make up their mind about changes to their listing. And sometimes, though thankfully much less often lately, it's just a slow month all around for whatever reason - school starting, holidays, what have you. But just because we have down time, that doesn't mean that there's nothing you could be doing!
Educate yourself! There are always online training courses available, or new books or blogs to read!
Take a little bit of that down time and hone a new skill. Read up on market trends in your area, or search for blogs that will provide some fresh new marketing ideas. You can never have too much knowledge!
Go preview some new listings! It's always beneficial to know the inventory available in your area. Take an afternoon while you're waiting to hear from that slow bank or client and ride around some neighborhoods. Scour the MLS for your area and acquaint yourself with any new listings you might've missed during your busy time. You could even contact a few FSBOs and ask to tour the homes. At best, you may be able to open their eyes to the benefits of using your services. At worst, you now have another home on your list of potential properties to show that you've seen with your own two eyes.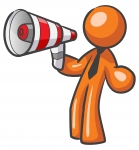 Amp up your marketing! Run a Google search on templates for mailouts. There are tons of free, downloadable and editable options out there! Use a couple of your free hours to print out some eye-catching flyers and mail them out to neighborhoods in which you've had success selling or finding clients. Go door-knocking. Drive around to some of your local businesses and ask if it's ok to leave some business cards with them. Get creative! Down time is the best time to let your imagination run wild and brainstorm some new and inventive strategies!
Call somebody! Reconnect with some past clients and business contacts. Ask them how life is going in their neck of the woods. Chat about business or just have a pleasant conversation about life or sports or family or anything. It's always important to keep up with past business associates - they're a great referral source, and you can NEVER have too many of those!
When all else fails, RELAX! Ok, so we can't do this EVERY day, but when you really have exhausted all
the options available and your brain feels like mush, it might just be beneficial to you to take a nice hot bath with a glass of wine and just chill out. We all need a mental health break sometimes, so go take a nap without feeling guilty for it!
850.661.1440