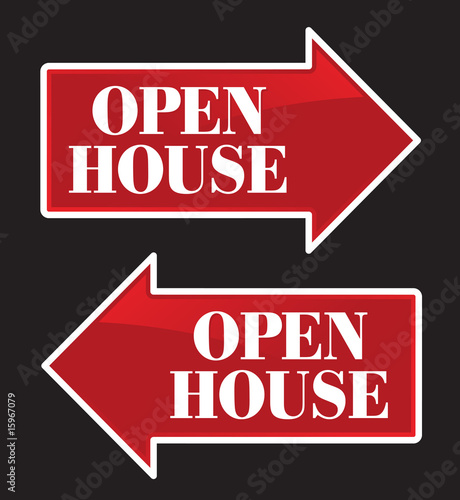 While there is some debate about whether or not open houses are the best way to entice buyers to a property, it's a long-established real estate tradition for a reason. Even if only a few people show up and walk around, that's a few more potential clients that you've taken the time to meet in person! Of course, the way the property is presented and marketed can make all the difference in the world, so read on to learn some tips on how to maximize success at your future open houses!
1. Market EVERYWHERE! Plan your open house far enough in advance so that you or your admin have time to market and advertise. This means more than just placing signs up around the neighborhood (although you should definitely do that, too!) Take out ads in the local paper, and don't forget about the free Penny Saver's people love to pick up outside the grocery store. Utilize the most frequently searched real estate websites like Zillow or Trulia. Put an ad on Craigslist and renew the post every morning for at least a week leading up to the scheduled date. There are even new apps available for your smartphone that allow realtors to post their open house dates, and potential buyers only have to click the link to get full details and mapped out directions! Put yourself in a modern buyer's position, and try to think of all the different ways that you would find information if you were in the market for a new home. Facebook, Twitter, Google Plus...if you have an account, use it to get your listing out there for people to see!
2. Arrive early! If the home is currently occupied, ask the resident to leave about an hour before the scheduled starting time. This is when you should arrive to get everything set up, and to greet any potential earlybirds. The homeowner should always be advised to get the home professionally cleaned and clear out all clutter in the days leading up to the open house, but you should still take the time to walk through the home with a critical eye before the customers start knocking on the door. Make sure that the home looks it's best, that the windows are open to show off all the natural light, and that nobody's going to walk in to find dirty laundry on the bathroom floor!
3. Provide Information! Print out copies of the MLS listing, any applicable school information, community newsletters, or flyers, and set them up on the kitchen counter or dining room table. While you are going to be sticking around for the duration of the open house, you don't want a customer to walk out with questions unanswered because you happened to be busy talking to someone else and the customer couldn't wait. Be sure that you have an ample amount of business cards next to your informational packets, and that your name and phone number is highlighted in large, eye-catching font on each item provided to the customer.
4. Set Up Snacks! There's not much more inviting than the smell of freshly baked cookies, so take a few minutes to throw a tray in the oven before the clients arrive. Place a cooler on the table to provide cool drinks in the summertime, or brew up a pot of coffee to warm people up in the winter. It's always a good idea to include some small packets of gummy bears or other kid friendly snacks, so the little ones have something to occupy their hands while their parents take a look around. Not only does a "snack center" provide a nice gesture for your potential buyers, it also gives people a place to stop and linger for just a little bit, which is a great time for you to walk by and strike up a conversation on the great features of the property!
5. Invite the Neighbors! Ok, so this tip won't necessarily work for EVERY open house, depending on the neighborhood. But oftentimes, people who live in the area and love it can be great salespeople for a property! Think about printing out a few flyers to let the people in the surrounding homes know that they're invited to come share their knowledge of the community with your potential buyers. Or, knock on a few doors around the listed property and ask the residents for any useful information that you could relay during the open house that may not be known by anyone outside the neighborhood. Who knows the area better than the people who live there? You might learn about the awesome playground right down the block that you never noticed driving by, or the great kid who comes by every summer and mows the lawn for cheap!
6. Know When to Talk, and When to Make Yourself Scarce! When you notice a client pulling up outside, open the door and welcome them! Introduce yourself, ask them to sign in to your guestbook so that you have a few key pieces of contact information, direct them to your informational packets and snack table, and then get out of the way. Allow the customers to walk around freely, taking their time to check out the space without you hovering over them. Then, when they've made their way around to the table to pick up their information, take a moment to ask them if they have any questions. Take the time to point out any outstanding features of the home they may not have noticed. Relate the information you learned from the neighbors. Try to keep the tone of the conversation light and positive - these people know you're trying to sell them the house, so you don't have to lay it on thick or try to add pressure!
7. Follow Up! After the open house is over, do another walkthrough and make sure that the home is in the same shape as it was when you arrived. Close any closets or cabinets that may have been opened by curious buyers, and tidy up the things you brought in. You don't want your seller to be put out by the open house process! The next day, go through your guestbook and either call or e-mail the customers who came and took a tour. Ask them if they have any feedback on the home, or if they thought of any additional questions overnight. Purchase an inexpensive pack of thank you cards and send a personalized note to anyone who left their address, and include your business card. Even if they weren't interested in this particular home, providing exceptional service will make you stand out in a customer's mind!
Above all, you want to give everyone involved in the open house, from the seller to the buyer, an experience to remember. Take a few extra minutes to prepare, add personal touches, and connect with your customers. These few small steps can definitely help tip the scales in your favor, and maximize your open house potential!!
850.661.1440