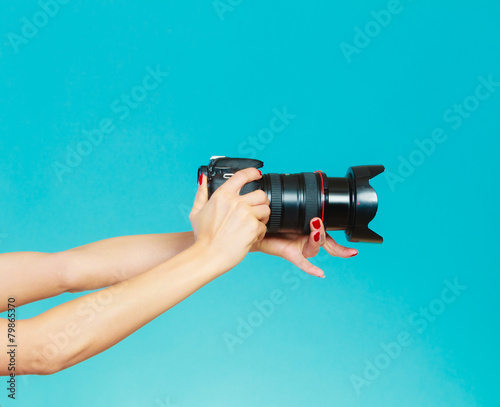 In today's world of technology, a huge part of the home buying process starts online, with customers perusing your listings through the many different real estate sites available to them. So how do you make your listings stand out above the rest? Great photos of the property are key! Taking poor quality photos can make a great home languish for months longer than it should. Read on to discover my top 10 tips for how to take the BEST photos!
1. Invest in real photography equipment. While it may be tempting to pull out your smartphone and snap a few quick shots, this isn't always the best idea. The photo quality can be very good, but not many smartphones can match the excellent picture resolution provided by professional photography equipment. You don't necessarily have to invest in the most expensive product on the market, especially if you don't know how to use all those fancy features! Just find yourself a good quality product that takes high definition, high resolution photos. Take the time to learn about the exposure rate and lighting options for your particular camera to maximize functionality. And it's also a great idea to get yourself a cheap tripod to go along with it! Crooked photos can make your listing look sloppy, so even though lugging a tripod from room to room may be a little cumbersome, it's totally worth it when you have professional looking, well aligned photos.
2. Lighting is key! Contrary to popular belief, taking photos of the interior of a home is actually best done on an overcast day, or in the evening. A lot of light streaming through the windows can be a good selling point, but it can also cause your photos to look overexposed, or make it difficult to take a picture without glare. Plan your photo session for the early evening, and begin by taking the exterior shots. The soft light of sunset can really set off a homes outdoor features, and looks inviting to a customer. This time of day also allows you to take the interior photos with the windows wide open, highlighting the outdoor views while still showcasing some of the natural light in a space.
3. Use a wide angle lens! This type of setting provides the ability to take a picture of the whole room without causing distortion. I know it can be tempting to use a wacky "fish eye" view, but this can actually make a room look smaller by blurring the edges of the shot, and many people find the effect disorienting and misleading. A lot of newer model camera also provide the ability to take a panoramic photo, giving you the chance to get the entire room in one shot!
4. Take more photos than you think you'll need! It's always better to have a wide variety of pictures to choose from, rather than getting home and realizing that the few you took didn't turn out as well as you thought they would. Take a photo from the door entering each room, as well as one from the opposite wall. Make sure that each room has a full view so that your potential buyer doesn't feel as though you're hiding any possible imperfections with odd camera angles or awkward shots.
5. Refuse the urge to over-filter! Let's be honest, we all know when a photo has had multiple filters placed over it, and it usually makes us think that the photographer is trying to hide something. Instead, choose one nice filter that brightens up the interior, or adds extra definition to a special feature you want to highlight.
6. Make sure you get shots of what makes the home stand out! Are you advertising the beautiful crown molding in your listing, but the only way a customer can actually see it is if they squint and stare at the top of a living room photo? Get an up close view of these great architectural details that make your property stand out above the rest. Highlight the fireplace so the customer can see the beautiful stone work. Take a shot of the hand carved stair railings to showcase the superior craftsmanship. Get a nice tight look at the gorgeous granite countertops. Maximize those things that your listing provides above other properties with similar layouts!
7. Don't forget the views! Does this home have an amazing back porch just perfect for entertaining? Take pictures both from the porch itself and from the opposite side of the yard so your buyer can imagine friends and family out there for a cookout! Is there a beautiful swimming pool? Get that crystal clear water from a few different angles to make someone want to dive right in! If the property is waterfront, snap a shot of a spectacular sunset reflecting off the water! It's also very appealing to the eye to take an exterior photo of the home at night with all the windows open and lights on!
8. Remove the clutter and stage your shot! Nobody wants to look at a basket full of dirty laundry! Encourage your seller to do a thorough cleaning of the home before you arrive for the photo session. If there are a lot of personal items scattered through the home, shift them to areas you're not photographing at the moment to showcase a clean, inviting space. Remove the photos or magnets from the fridge and make sure there are no dishes in the sink. You want your potential buyers to see a space they can imagine making their own, and sometimes that can be hard to do with another person's belongings cluttering up the view.
9. Pay attention to the details! Don't take a photo of the living room with the television on. Make sure that if you're getting pics of the bathrooms, that you don't catch yourself in the mirror, the toilet is flushed, and the lid is down! Not everyone is a pet person, so while you may think it's cute to snap a pic of the puppy laying in the yard, this could be a major turnoff to someone who doesn't like dogs and only thinks of the potential mess those pets may leave behind when they move out!
10. When all else fails, hire a professional! We all have our strengths and weaknesses, so if photography isn't your thing, it may be better to go ahead and hire a professional to come in and get those outstanding shots you're looking for. Shop around your local area and check out portfolios. You may be able to strike a deal for a discount if the photographer knows you'll be using their services often!
While a lot of these tips may seem like common sense, you know we've all seen those listing photos where we wonder just what that agent was thinking! Take the time to look through the lens with your buyer in mind. Organize your photos so the customer can imagine themselves walking through the home, from the exterior and through every room, so that they can't help but pick up the phone and call for an in person walkthrough!
Joel Jadofsky
850.661.1440
admin@teamjadofsky.com