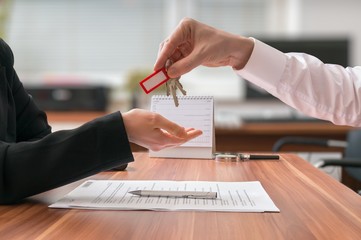 https://stock.adobe.com
Most everyone dreams of financial independence, and with the real estate market booming, purchasing investment properties can seem like a fast track to achieving that goal. But before you take that big leap, there are a few things you should consider.
1. Check your finances! Do you have outstanding debt at the moment? Even if you're able to be pre-approved for a loan, it's always better to enter into real estate investing with as clean a slate as possible. Make sure any student loans or medical bills are caught up or paid off first! Also, keep in mind that a down payment on an investment property may be higher than for a primary residence, so you'll have to have a little more up front. Don't forget to factor in the higher tax rate you will pay, as non owner occupied properties are not eligible for a homestead exemption.
2, Calculate your expenses! Studies have shown that to turn a profit on a rental property, your expenses need to be around half of your income or less. That means that if you are planning on setting your rent at $2000 a month, your operating expenses need to be under $1000. These expenses include mortgage, insurance, taxes, and any upkeep or repair costs. Keep in mind that the more expensive the home, the higher your operating costs will likely be, so careful budgeting and planning BEFORE you purchase will only benefit you in the long run!
3. Choose the property wisely! While it may be tempting to snatch up that super cheap fixer upper, this may not always be the best course of action, especially for a first time investor. Unless you or someone close to you is an experienced craftsperson, the cost to do a full home renovation can rapidly balloon out of control! You also need to think about the types of tenants you'd like to have, so that you can better choose the location in which to purchase your property. If you're looking to rent to a young person just starting out, look for a place that's centrally located. If, however, you feel more comfortable renting to a family, research the best school districts and parks in the area that would appeal to parents with children.
4. Lay out your ground rules! Everyone has a story to tell, and when you're a landlord it can be very easy to want to help every tenant through hard times. While this is definitely an admirable quality in life, it's one that can get an investor into a lot of trouble over time. You don't want a tenant to think that they can pay the rent late every month because you were understanding once or twice, so make sure you write a rental agreement that lays out firm rules, and stick to them. Remember that this is a business relationship, and that if you are holding up your end of the deal by providing a safe, well maintained home for someone to live in, your tenants need to also live up to your expectations of them. You'll also want to figure out the screening process you will follow when choosing new renters. The most costly expense for a property investor comes when the tenants move out and you discover they've caused horrible damage to the property. Proper screening beforehand isn't necessarily foolproof, but it can help to weed out buyers who may not take good care of your investment.
Investing in property is a great idea for many people, and can help to provide an additional income for you, if you go into it with both eyes open. Be sure you know what you're getting in to, and that you have a firm plan in place both before, during, and after you purchase your real estate, so that you can start turning a profit quickly and painlessly!
850.661.1440