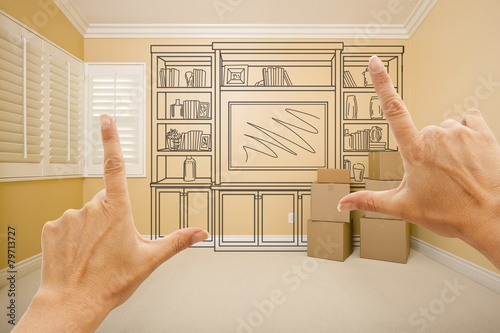 How did I accumulate this much stuff?? We've all asked ourselves that question at least once in our lives, right? And sometimes, even after we clean and scrub and get rid of everything we think we can live without, we're still left with more items than storage space. Don't fret! With the current trend towards smaller space living, there are many useful storage solutions we can all benefit from, no matter our home's square footage!
1. Take stock of your space. First, look around your living area and identify any space that isn't being used effectively. Is there a door the opens outwards and prevents you from using a whole corner? Do you have tons of things on the floor, but nothing hanging on your walls? How about that dark spot under the bed? Make a mental note of every nook and cranny, and we'll explore how to maximize its usefulness!
2. SHELVES!!! I can't stress enough the importance of good shelf space! By sacrificing a mere 12 to 18 inches around the perimeter of a room, you can build an entire wall of shelving, right up to the ceiling! Measure carefully and install good quality, durable shelving units. Make sure there are a variety of cubby holes, closed cabinet areas, and open shelves so that you can display the things you want seen, and hide the things you don't.
3. BASKETS!! Almost as important as shelves, invest in baskets, bins, and boxes. You can place groups of like items, like magazines or winter gloves, into a basket, place it up on a shelf, and your clutter is instantly out of sight. As an added bonus, you won't have to search through the closets when you need to find something, since everything will have it's own special place. Decorative baskets are great for display, and can even be changed out seasonally to match your decor. Longer, flatter bins and boxes fit perfectly under the bed or couch, making them a good place to store seasonal decorations or clothing items. I guarantee, if you have an empty space, someone makes a basket or box that will fit in it!
4. Dual purpose furniture. There are SO many options for this in stores today. Ottomans that open up and hide your living room clutter. Bathroom vanities that can also hold all the linens. Coffee tables that lift up and make a desk. Use existing doors and cabinets, and add over the door organizers or easy to install cleaning supply holders. Get out there to your local department store and check out all the great possibilities!
5. Get creative! If an awkwardly placed door is in the way of where you want to put some furniture, take that thing off the hinges and replace it with a nice curtain instead! Hang up a corkboard in the kitchen and use it to hang up your pots and pans! If you have a spare room, but only have company occasionally, think of putting in a Murphy bed that will fold up into a nice shelving area when not in use. Place your plants in hanging baskets instead of taking up valuable counter space. Place items in mason jars, hang magnets from the undersides of your kitchen cabinets, and hang the jars up and out of the way!
Of course, when all else fails, you could always go and rent a storage unit, but I'm sure that with a little creative thinking and some minor redecorating, you'll find that you have much more space than you ever imagined!
850.661.1440