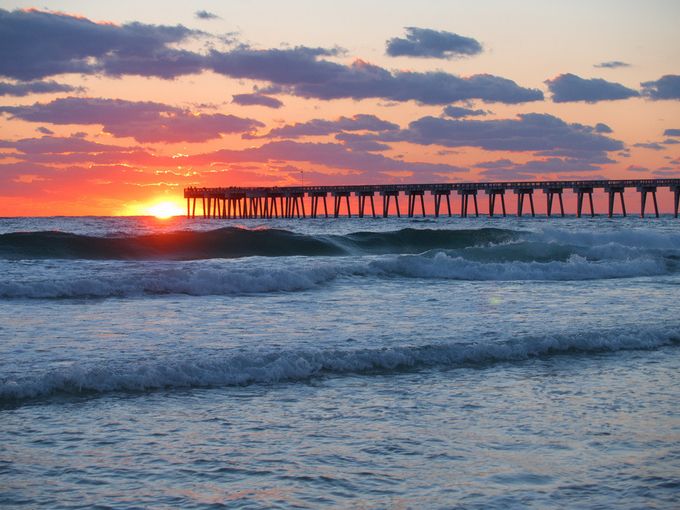 As everyone knows Panama City Beach has some of the most beautiful scenery in the country. The white sandy beaches draws crowds from all over the world! The beaches are some of the best in the world and the sunsets are breath taking. But where are the best locations to view these sunsets to have the greatest views and be able to capture the best pictures. There are several locations to view the sunsets.
1. Laguna Beach- The west end of the beach is definitely quieter and offers more solitude. Less crowded beaches offer a chance to take a long romantic walk down the beach with your significant other.
2. Pier Park- You can shop and enjoy the vividly painted skies all at the same time. Grab a bite to eat at one of the many restaurants then take a stroll across the beach and watch the sun fall below the horizon.
3. Helicopter tour- There are several helicopter charters that will give you an experience to remember for ever. Fly away into the sunset and get pictures that are simply priceless. Often and common place for marriage proposals so don't be surprised if you see someone get down on one knee, what a memory that would be!
4. The pier- Popular fishing spot for all the locals but you can still find a spot on the pier to enjoy the sunset every night and watch the fishermen pull in dinner. Great way to be on the water but not have to worry about getting sea sick.
5. Sunset cruise- There are countless options to enjoy a sunset dinner cruise. Whether you want a family friendly boat or a party just for adults, there are several to choose from. Just make sure you bring your dramamine and dancing shoes.
6. Top floor condos- While some of us are afraid of heights, nothing compares then sitting on the 21st floor on a condo balcony watching the sun disappear. The view is completely breath taking. Make sure you snap some pictures because it will be worth sharing on social media to make everyone else envious.
There's millions of places to witness this extraordinary event just make sure that when you come to Panama City Beach you set time aside each evening to see the sunset because you will fall in love!